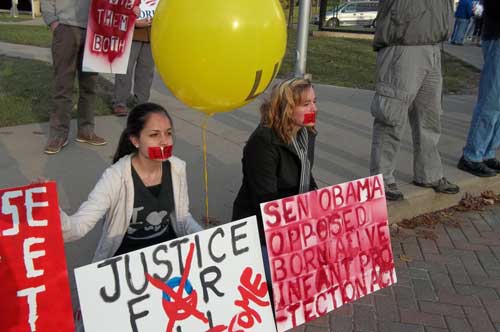 (www.RemnantNewspaper.com) It was less than a week before the election when I received the news that President Obama would be holding a rally on campus. The College Democrats were ecstatic. Flyers announcing his visit were posted everywhere. Students rushed to get their tickets.
The university's honors program sent out a special email inviting their top students to reserve seats on the stage as a way of representing the university. (All this was done, of course, with special emphasis on the fact that the university was NOT endorsing any candidate, but rather "facilitating an offer" from the Obama campaign. Right!) At any rate, four of my pro-life friends and I decided that we would go.
The big day arrived. People lined the sidewalks for at least two miles outside the arena where the President was going to talk. They were armed with signs and buttons, t-shirts and flags marked with the ominous battle cries of "Choice" and "Forward." We drove past them slowly, wondering what they would do to us if they knew the reason we were there.